At Harac Consulting, We Build Bottom Lines.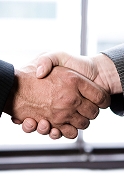 Sales

Selling is an art. Many companies with expertise in providing products and services lack the ability to identify prospective customers and close deals. Harac Consulting can help. Prospect gathering plans - Professional sales calls - Multi-media sales presentations - Effective training of your sales staff. We stand ready to assist you.
Negotiation - Mediation

Many business situations require skilled negotiators. The outcomes of mergers, acquisitions, buy outs, etc. hinge on the ability to make sound deals. From strategic planning through tactical implementation, Harac Consulting can guide you through the labyrinth of obstacles present in any serious deal situation. The value of an unemotional, objective, experienced negotiator is time proven. If negotiation iRe Harac - Site.ems sn't your strength, perhaps you would benefit from a hired gun.
Government and Law Enforcement Relations

Selling products and services to government offices and branches of the law enforcement community requires knowledge of the requisite protocols and connections to decision makers. Without these tools, companies can waste valuable sales dollars without getting a return on their investment. Harac Consulting can assist in this process either as your representative or as a guide through the process.