At Harac Consulting, We Build Bottom Lines.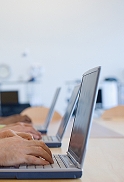 Web Site Development

Harac Consulting designs and builds Web sites with results in mind. Whether your company is contemplating a Web presence or optimizing an existing site, our experience can help. We work with you from design to completion ensuring that your Web solution is both appropriate and effective. Whether we handle the entire project or simply consult on an isolated aspect, we stand ready to assist you in achieving your Internet objectives.
Planning and Management of Internet Projects

Perhaps you have a team ready and able to build or revamp your Web presence but lack an experienced project manager to oversee the operation. From concept to completion, Harac Consulting can provide the solution. Take advantage of our experience in the design, construction and management of numerous successful Internet presences.
Development of an Internet Marketing Strategy

The Internet represents a new business frontier. It has its own rules, regulations and protocols. Strategic consulting in this area can reduce failure rates and help cut costs. Utilize Harac Consulting's experience to navigate the array of possibilities and create the right e-commerce solution for your business. Proper planning here can really pay off down theRe Harac - Site.ems line.
The Internet is a big place. Creating a great site does not attract visitors. It is similar to building a beautiful superstore on a back road without signage. Effective advertising is needed. The Internet culture provides many excellent, low cost opportunities for generating site traffic. We can help you evaluate those opportunities before you waste money on traditional multi-media ad campaigns. The tools are there; let us help you use them.